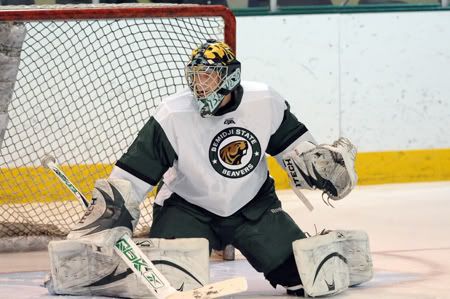 Happy Monday folks. JMC here holding down the fort while Zach's on his way back from a real strenuous trip to Arizona to watch spring training baseball on his parents' dime. Because I feel so sorry for him (travel is such a bitch) I agreed to write today's post for him...
At this time of year it's sometimes hard to remember that there's more going on than just the NCAA men's basketball tournament. Obviously there's a lot of media attention to the tourney and everyone, ourselves included, is fretting over the
status of their bracket
. But lost in the shuffle are some other pretty compelling sports stories that we thought you might like to know about...
-On Saturday the University of Virginia defeated the University of Maryland 10-9 in men's lacrosse. Big fucking deal right? Actually, yes, because that game went to SEVEN overtimes, making it the
longest game in NCAA history
. Being a UVA alumnus, I actually watched all seven overtimes, and let me tell you, it was nerve-wracking. UVA had to score four 4th quarter goals just to tie the thing up, and then withstood 14 shots in overtime to finally win and preserve their undefeated record. Never watched college lacrosse? You might want to start - it's fast, it's exciting, and the players knock the shit out of each other. Of course it helps when you have a real rooting interest. It's too bad there are only about 5 games broadcast per year. My Wahoos by the way are #1 in the country so look out come tournament time.
-We know about as much about hockey as we do about women so writing about the
Frozen Four
is a stretch. But hey, someone's got to do it. Did you know that there's a college called Bemidji State in the hockey tournament?
BSU
is in, no shock here, Minnesota, where little kids play hockey like little kids here in Berkeley recycle and learn to do yoga. And BSU has made it to the Frozen Four! The lowest seed ever! Apparently there have been some exciting finishes in the hockey tourney but we of course missed them because we were too busy, um, reading the articles at the new
Playboy Archive
. NSFW example
here
.
-There is also a WOMEN'S NCAA basketball tournament. In fact there's a regional going on right here in Berkeley, and like a good sports blogger we spent all day
attending the games
on the couch with our hand down our pants. The cool thing is that
UConn
is undefeated. They haven't lost a single game all damn season. And they're pretty much a lock to finish their
run through the tournament
and win it all without one measly little loss all year. Pretty impressive. If this was the men's team we'd be talking about how the women on campus would be lining up to give these guys a "welcome home present," but it's the women's team so they'll probably just go back to being unrecognizable and oddly tall.
What, you were expecting a UNC-OU Morning Headlines? Sorry.