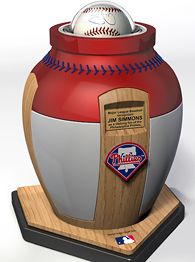 Some thoughts from a wild Wednesday in the sporting world:
The U only cares about one thing...
Winning. As opposed to say, integrity or discipline. You see, in the wake of the now infamous
brawl
, Miami
suspended
13 players for a total of, get this, 13 games. Now we aren't math majors but we can infer that each player got a one-game suspension. To their credit, Anthony Reddick, who used his helmet like a sledgehammer, had his punishment changed to an indefinite suspension. Still, this shit is pretty lenient, and shows that the 'Canes care much more about winning than they do about having a program deserving of respect. And let's not forget that this week they play Duke, who they could probably beat playing blindfolded with one hand tied behind their backs. FIU on the other hand kicked two players off the team and gave 16 others indefinite suspensions, plus they are required to attend anger management classes and do community service.
Joe Buck still sucks...
Our
favorite
play-by-play man was back behind the mic for the NLCS game 6 in New York last night, and as usual, made the game virtually unwatchable. Our favorite moment came as the
Mets
recorded the final out sending the series to a decisive seventh game. His call, which was something along the lines of "chopper to the right side, Valentin throws to first and this series is going to game 7," totally sucked. Note the lack of expressive punctuation at the end of that sentence. No exclamation point, no words in bold or italics. That's because, if we didn't know better, we would have thought ol' daddy's boy was calling the last out of the third inning of a spring training Royals-Rockies game. We'd think about getting excited for the upcoming fall classic, but the thought of Buck calling every game makes us nauseous.
Because you can't take it with you...
Now you can take your favorite MLB team to the
grave
. Or to be more accurate, your favorite team can take you to the grave. In a somewhat frightening case of what
Uni Watch
would call "logo creep," you can now be buried in a coffin complete with your team's logo, officially licensed and all. No word on what the price will be yet, but, given MLB's love of taking you for every penny they can get, let's assume they'll be pricey. Because it wasn't bad enough that you died from an ulcer you got watching your team lose in the playoffs, you can now be constantly reminded of it for all eternity.