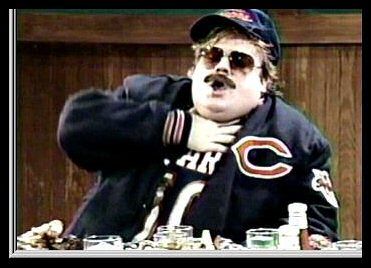 Thoughts on week 5 of the NFL:
- So the Bears. Or "Daaaa Bears" as I like to call them.
40-7
over the Bills. It's looking more and more like
1985
.
- Carolina: 0-2 without Steve Smith.
3-0
with him. MVP?
- Indianapolis: Maybe the least convincing
5-0
team we've ever seen. Perhaps Peyton needs to spend a little more time preparing for the game and a little less time shooting commercials.
- Matt Millen: Does anyone have any clue why this man still
has a job
?
- Pittsburgh:
Not looking
like the defending Super Bowl champs.
- San Diego: Looking
awesome
in the powder blues.
- Terrell Owens: Great use of the term "
non-factor
" by the Associated Press.
- Vince Young: Just doesn't look quite
right
wearing
socks
.
- Reggie Bush:
Scores
his first NFL TD and still isn't a Houston Texan.
- Oakland: Quoting an email from Zach: "It's a good thing
Art Shell
is on the large side because when he gets fired (which has gotta be soon) he'll have some of his fat to live on." Harsh.
-Jameson Costello